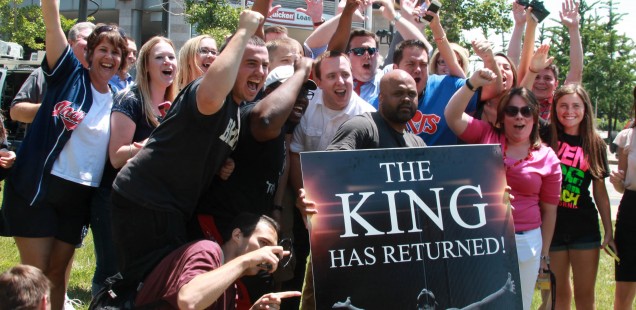 The Decision
A few days prior, I had purchased a lens from Dodd Camera that wasn't functioning properly. I wanted to see if I could find another one before taking it back. So, on Friday morning I decided to go down to Camera City and see what they had for me. I parked and put about two hours worth of change into the parking meter and started walking down the street.
As I'm about twenty feet from the door, I hear and see this man running out of the Winking Lizard across the street yelling "Welcome home LeBron!" Confused, I look at my phone and refresh the ESPN page that was already open in my browser because I was reading an article earlier that morning about how Dan Gilbert's infamous letter might've still been a touchy issue.
Still nothing.
Then I opened my Twitter app and saw the SI photo with "I'm Coming Home" written on it. "Shit," I tweeted. There was an alarm going off down the street at Quicken Loans Arena, but that thing is always going off. The events that followed were nothing short of surreal.
Needless to say, I kept walking past Camera City and opted to stroll down Huron Road closer to The Q and see how others would react as the news spread. I circled Ontario as I started to reach in my bag and pull out my camera. I wanted to have it at the ready for anything that might have been about to happen.
I made a right onto Prospect and I saw groups of downtown working professionals giving each other high fives and grinning. Then came the horns — motorists began leaning on them heavily and yelling inaudibly from their windows.
I drifted over onto East 4th and could hear the buzzing begin to pick up even more. I saw a gentleman wearing one of those old "Witness" shirts and he expressed how he was hopeful for the Cavaliers' future. Local news station television cameras had now descended upon the area and were interviewing people left and right — while they ate, while they drove, whatever.
I swung back over by The Q and the chorus of vehicle horns had somehow morphed into a call and response thing. As each car sounded off, the every growing crowd roared — a trend that would continue for the rest of the afternoon and only intensify. Over to the side, there was a gentleman with a sign that read "The King Has Returned" and it was quickly attracting the attention of fans and media alike.
I took a break from all the excitement and finally made it into Camera City. I found a lens I was satisfied with, bought it and started to go check my parking meter. On my way there, I bumped into AZ (one of Scene's owners) and we chatted for a quick second. He pointed up and to the right, showing me a big "Welcome Home LeBron" sign that was on the marquee at the corner of 9th & Prospect. I eventually made it to the meter which had about thirteen minutes remaining on it. I put some more change in there and figured I'd test out my new lens as the hoopla was still going on.
Back at The Q, national media was now on the scene as well — ESPN, CNN and Fox Sports to name a few. I watched as Josina Anderson and Marty Savidge got ready for their live broadcasts with hordes of rambunctious (and some creepy) fans surrounding them. Cavaliers PA announcer Olivier Sedra was out conducting interviews.
I continued to shoot. One of the more interesting sights of the afternoon was an old Shawn Kemp jersey. Where he found that old relic…no one knows. I knew I had some good shots to work with so I decided to close up shop and head home. Walking up the street, storefronts were already celebrating on their sidewalk signs. I even saw a Budweiser poster which made me scratch my head a little bit.
I get home, anxious to get to editing…and my laptop has gone out on me. I wind up having to rush to get one at Best Buy. Albeit frantically, I still managed to get the photos edited and submitted that night. Just a crazy day overall.